Alignments
Computerized Alignments are another specialty at Buds Muffler Inc. of Colorado Springs. With every alignment we do give the customer easy to read before and after spec's on their car. Like Brakes most alignments are free checks. We always look for bent parts from bumping curbs and hitting pot holes. Along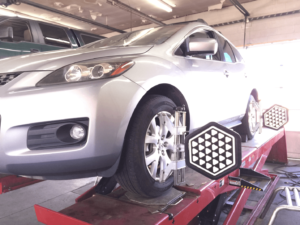 with factory adjustments sometimes you have to install aftermarket parts to make adjustments at an extra cost. If that's the case we will explain the cost and why. Another specialty is we do CODE LINK alignments. Which is for newer cars that have computerized steering. We also specialize in lowered cars and raised trucks. We also align custom cars and cars that are referred to as donks.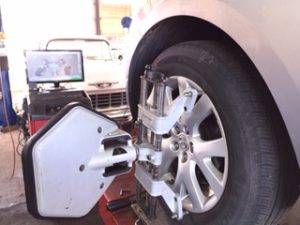 That is raised cars with oversized wheels. We can align large wheels up to 28". Like our Brake Service our Alignments are complete so we don't do "Toe and Go Alignments" We also read the tires to see what's going on with the alignment.
Custom Exhaust
Custom Exhaust and Bending pipe is our oldest specialty custom exhaust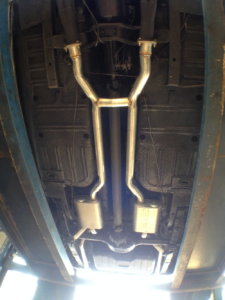 At Buds Muffler inc, Colorado Springs we've been bending pipe since the 1950s. Following patterns from the original equipment to custom bending out of our experience. We use the best bender built that leaves only a small shoe mark for more performance and a stronger pipe. We can bend from 1 1/4" to 3". We stock all sizes up to 6" with bend and connectors for larger trucks or industrial situations. And since our main supplier is located in Denver we carry a very extensive supply of hardware hangers and gaskets to get the job done in one visit.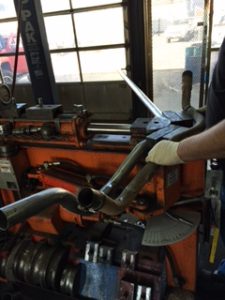 Buds Muffler Inc also specializes in repairing exhaust manifolds by machining them flat again in house and reinstalling them with fresh gaskets. Along with resealing exhaust manifolds we also specialize in removing broken bolts and exhaust studs from the engine.
Leaf Spring Re-Arching
Buds Muffler, inc. has been re-arching leaf springs since the 1950s. We are a full service spring shop providing services for all of your suspension needs. Re-arching can raise the load capability of most vehicles up to 500 lbs above stock.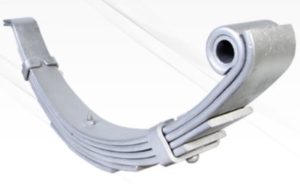 It can also raise a vehicle back to stock plus as high as 2 inches higher. Also it can go the other way, custom arching to lower vehicles. We like re-arching better than new. When we sell new you get what comes out of the box. We sell new springs and accessories.
Bushing replacement with stock or urethane. At Buds Muffler Inc. We also make our own custom u-bolts up to 7/8" diameter rod. We carry a large inventory of rod sizes and lengths. We service everything from hot rods to motor homes.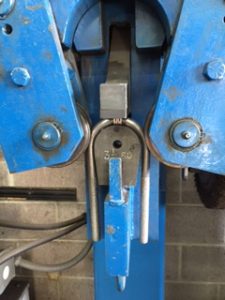 Brake Service
In most cases all Brake Inspections are free of charge. Buds Muffler, Inc. has always done complete brake service. When a complete brake service is performed our experts inspect all parts thoroughly to check for any failure other than just the brake pads or brake shoes.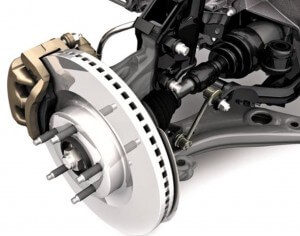 With today's cars and trucks there are more things to look at including, but not limited to, all hydraulic parts from master cylinders to brake calipers. And with antilock brakes there are computer modules and sensors. We have invested in the latest in test equipment and machinery to complete the job right the first time.
Our employees don't get paid to work as fast as they can to get to the next job so spend as much time on your car to get it right. We also have an on-the-car lathe that is the latest and most accurate lathe on the market. Which mean to you smother braking for longer periods of time.
Catalytic Converters
Catalytic Converters are a necessity in today's world because of the amount of cars and trucks on the road. I remember when I was a child we would be walking home from Cub Scouts and would come by a car idling on the curb and our and our eyes and throat would burn. Those days are over. Back in 1990 I was told by a State Employee that Colorado Springs was one violation day away from going to Denver's emission testing which to me would really be an imposition. So at Buds Muffler we like catalytic converters.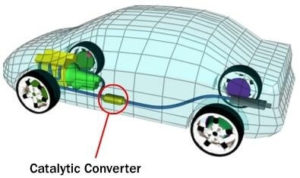 We always check cats for free. Including scanning and pressure test. And just because a catalytic converter gives a fault code doesn't mean it needs replaced. We fix a lot of cats with fuel system cleaning removing carbon and other contaminants at a fraction of the cost of replacing them. We use a 3M product that actually fixes about 8 out of 10 Catalytic Converters. We also replace them with the best replacement for the car or truck. Today's vehicles sensors hold the cats to a higher standard. We guarantee our cats to keep the cat indicator light off.
Suspension and Steering Diagnostic Services
Automotive suspension is the term given to the system of springs, shock absorbers and linkages that connects a vehicle to its wheels. Suspension systems serve a multiple purposes contributing to the car's road-holding/handling and braking for good active safety and driving pleasure, and keeping vehicle occupants comfortable and reasonably well isolated from road noise, bumps, and vibrations, etc.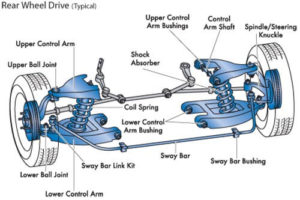 It also helps the car steer by turning smother turning and holding steering angles tighter and holding the tire in align when driving straight down the road. Alignments are measured in the smallest degrees for instance toe alignments are measured in 1/100 th of a degree. That to me is such a small fraction but it can make all the difference in the world on tire wear and driving comfort. When it comes to finding problems with a cars alignment I look at it as kind of a challenge and take the time to figure it out.
Complete Tire Service
Buds Muffler has been selling brand name tires as a service to our customers since 1994. It really fits our business because of our suspension and steering service. And with our oil changes we get to check the tire wear and for rotation every 3000 miles. It works real well. Tire wear is an indicator of worn parts in the front end or even the rear end of newer cars. We offer snow tires and all-season tires. As well as matching sizes with performance tires to old muscle cars. Some of our customers own two sets of tires that are changed out from summer to winter tires.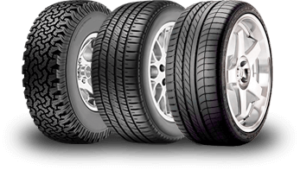 Tires can be a costly investment that's why we always give a choice. But we found that you don't always have to choose the most expensive tire to get the best tire for your money. And there is always 6 month same as cash financing for customers with a valid driver's licenses and a current credit card.
Nitrogen tire service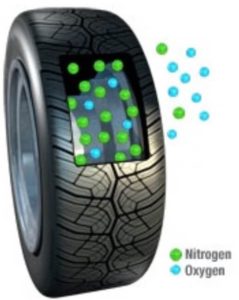 Today's cars and trucks are built for tire nitrogen filled tires. If your car was built in 2004 or later it probably is built for nitrogen use. Have you seen those pesky tire lights? Nitrogen must be used in order to turn those off. Nitrogen is in the air we breathe but it's only 79.1% the rest is oxygen and moisture. When moisture changes temperature it either expands or contracts which will make your tires either over inflated or under inflated. Nitrogen is dry and it stays a constant pressure. Oxygen molecules are smaller than nitrogen molecules it will actually permeate the sidewall of the tire. Since we use tire pressure monitors capital TPM S we have to use nitrogen to keep a constant pressure in the tires. Buds muffler Inc. of Colorado Springs has invested into the equipment to service your nitrogen filled tires. We totally believe in nitrogen and we recommend it to all of our customers. Nitrogen is perfect for a hot and cold weather.
Tire pressure monitor sensor service (TPMS)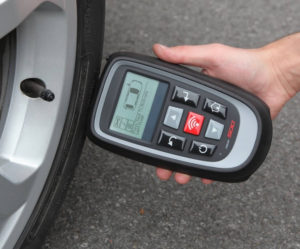 Tire pressure monitor sensors (TPMS) are on new cars starting in 2004. At Buds Muffler Inc., Colorado Springs, we can service them for our customers. It's a sensor that is placed in the tire and as you drive, it monitors the air pressure in your tires and talks to the main computer in your car. Buds Muffler Inc. in Colorado Springs we had to gear up with equipment and all the tools and then we stocked up our inventory of tire image of tire pressure monitor Tire Pressure Monitor pressure monitors. The tire pressure monitor itself is a sealed unit with the battery. The battery life is between 5 and 7 years. So in the near future there's going to be a lot of tire pressure monitors that are going to start malfunctioning. At Bud's muffler inc in Colorado Springs we can tell you which sensor is going bad and replace it. We have a state of the art scanner in programmer. With today's cars you are supposed to use this tool just to rotate your tires.
Call our shop Monday thru Friday 7:30 to 5:00

(719) 634-8089